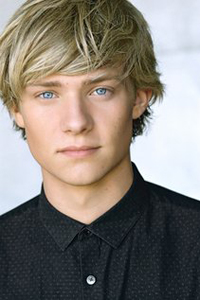 Program Attended: August 2008
Home Town:Powell, OH
Signed with: Greene & Associates Talent Agency, Trio Entertainment Group
Lou Wegner was born in Columbus, Ohio, the state that gave America Steven Spielberg, Drew Carey, Annie Oakley, Bob Hope, Paul Newman, Clark Gable, John Glenn, and other well known personalities. The 16-year old actor, singer and animal advocate appears in "Trouble With the Curve" starring Clint Eastwood, Amy Adams, and Justin Timberlake, Nickelodeon's "The Thundermans," "Doughboy," a dramedy about real-life veterans and the ultimate cost of freedom, Random Acts of Christmas, 2011 VH-1 Do Something Awards, Modern Family and other film and television projects.
He founded Kids Against Animal Cruelty (KAAC) in 2010, a non-profit foundation for animal rights, rescue and adoption. He started KAAC at age 14 when he learned that city shelter animals are put to sleep if not adopted. There are chapters in eight states run by teens. KAAC members are active in animal issues making headlines today including banning puppy mill sales at pet stores, closing down city shelter gas chambers and saving America's western frontier. He is also lobbying to educate his generation on the importance of responsible pet ownership.
With more than 50,000 KAAC members and partner coalitions, and celebrity support including Denise Richards, Joanna Krupa, John Schneider, Malese Jow, Elaine Hendrix, Eric Lange, Tim Moore, Emily Capehart, Addie Daddio, Lulu Cerone, Nicole Cummins, Laci Kay, Stephanie Levy, Betty White, Kaileigh Brielle Martin, and Wendon Swift, KAAC is among the fastest growing animal rights groups.
His music video/PSA "1Life2Live" was filmed at the Baldwin Park Animal Shelter in Los Angeles to raise awareness for millions of animals on death row in high-kill shelters. His pop music trio "Blonde" will soon debut its music video "Keep The World Spinning" depicting wild Mustangs and native Americans in a safe, sheltered mythical realm. Lou is already raising voices for federal laws banning the slaughter and transport of horses on U.S. soil for human consumption and to preserve our disappearing western frontier. Pretty heavy stuff for a kid his age.
When not busy acting, he works tirelessly finding homes for shelter animals, going to school, writing music, playing sports, supporting children's charities, co-hosting a weekly radio show Love That Dog Hollywood! Kids & Animals, and taking care of his seven rescue dogs. He lives in Burbank, California, is a 1st degree Black Belt, a swordsman, an equestrian, a martial arts enthusiast, and a longboarder. As he motivates fellow teens and adults to stand up for change, he is a role model and inspiration to those around him.
Lou's IMDb Profile
Television
Nickelodeon's "The Thundermans"
The Incybers (TV Movie)
ABC's "Modern Family"
TNT's "Men of a Certain Age"
The Young Icons
Film
D'jango Unchained
Pass the Light
Protocol
A Christmas Tree Miracle
Trouble with the Curve
Doughboy
Cats Dancing on Jupiter
In Darkness and In Light
Duel of Destiny
Littering is Bad
Warrior Showdown
Be Good to Eddie Lee
Game Night
Love, Serene – Joel