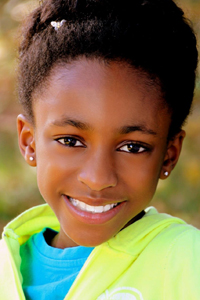 Program Attended: July 2015
Home Town: Orange, NJ
Signed with: Score Management
K'Lynn Jackman, the only girl among her Orange, NJ, family of six, is already capturing the imaginations—and hearts—of all who see this talented young lady perform. As a truly gifted singer, actress, and designer, K'Lynn has established herself as a rising star to watch, with acclaimed appearances at such notable venues as Premiere in July 2015, the United Nations' Champions Of Change Award Ceremony, Madison Square Garden, Newark, NJ Bear Stadium, multiple New York City Hall engagements, Brooklyn Nets games, the Apollo Theater, and GiGi'S Play House, among many other prominent arenas, theaters, and political locations.
On stage, she's thrilled theatergoers playing the role of Young Nala in Broadway's Tony Award-winning musical, The Lion King, and several other NYC-area plays and musicals. In addition to appearing at the late Whitney Houston's first annual Tribute Celebration, K'Lynn has also opened up for the top names in the gospel and R&B genres, such as Aretha Franklin, Bishop TD Jakes, Donnie McClurkin, Hezekiah Walker, Cee Cee Houston, Smokie Norful, and John P. Kee and more at the McDonald's Gospel Fest. Films on Bravo TV and commercials have also featured this emerging young talent, whose screen presence wins people over every day.
Seen by many as a child prodigy, K'Lynn moves forward with "big dreams, a strong faith, and a one-of-a-kind academic record", emphasizing her dedication to education, even amidst the bright lights of stardom. With hard work, determination, family, and God, K'Lynn believes all things are possible, with the sky the only limit on her future. "Nothing is impossible," K'Lynn says, her two messages and quotes that she lives by are "If you believe in yourself, the world believes in you / Don't dream it, just live." You can follow K'Lynn on Twitter, Instagram, Vine, and YouTube as @klynnsource, and via Facebook at www.facebook.com/klynnsource.